New Britain Teeth Whitening, Dental Implants, Veneers, CEREC - one visit crowns,T-SCAN TMJ Treatment
Dr. Gladstein offers a full range of dental services such as:
Cosmetic Dentistry
Fillings
Crowns
Extensive Reconstruction
Bonding
Root Canal Therapy
Bridges
Dentures & Partial Dentures
Implants
Gum Treatment
Nitrous Oxide
Veneers
Whitening
Sealants
Jaw, Muscle & TMJ problems
Extractions
Scaling and Root Planing
Doctor Gladstein also reviews cases as expert consultant, for things such as accidents, trauma & malpractice. He does this for attorneys, the Workers' Compensation Commissioners and the City Of New Britain.

What Sets Us Apart
We treat every patient as we want to be treated
We take our time on our fillings, crowns, veneers, and all procedures, resulting in restorations and quality care lasting three to five times as many years as the national average.
The Doctor has extensive continuing education and numberousdental awards, including a Masters in the Academy of general Dentistry, that only a couple percent of dentists have ever received.
We do our best to make your first visit as pleasant as possible, including music.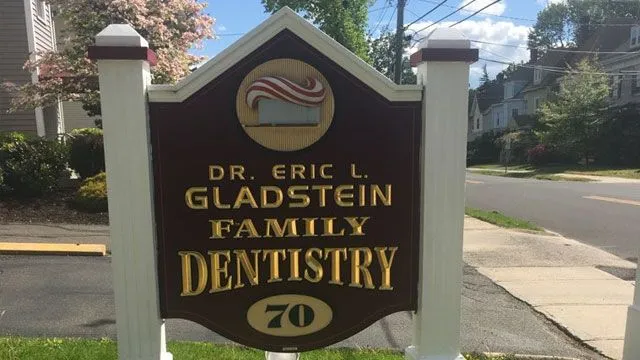 Examinations
At Dr. Gladstein's, examinations are extremely thorough and include a complete check for any signs of cancer and other critical conditions. Many patients have said that it is the best exam they have ever had.

Stopping Gum Disease
Gum disease is far more prevalent than most people realize. Some patients with gum disease experience bleeding, swelling, tenderness, bad breath, bad taste or pain. Others have no symptoms and may be unaware that they have a problem until it is too late and it has progressed to full-blown gum disease and loose teeth.

Good home care, regular examinations and follow-up treatments, when recommended, are critical for the prevention of periodontal gum disease.

Some patients get anxious at the thought of being in the dentist's chair. To help you relax, we explain all procedures in detail, and we offer CD player headphones for those patients who wish to listen to their favorite music.

Nitrous oxide is available, when requested.
Initial Oral Examination
Your initial oral examination includes a visual examination, charting, periodontal probing, diagnosis and treatment recommendations. We will also take x-rays, which includes the panoramic x-ray for proper diagnosis of the anterior (front) and posterior (back) teeth as well as the bite-wing x-ray series for proper diagnosis of proximal decay of posterior teeth.
Implants
Implants are synthetic structures that are placed in the area of the tooth normally occupied by the root. Implants are anchored to the jawbone or metal framework on the bone and act as a foundation for an artificial tooth or permanent bridge. In some cases, implants can be used to attach dentures. Read More...
Veneers
Veneers are thin pieces of porcelain or plastic cemented over the front of your teeth to change their color or shape. Veneers are used on teeth with uneven surfaces or are chipped, discolored, oddly shaped, unevenly spaced or crooked. Read More...
Crowns and Bridges
Crowns are synthetic caps, usually made of a material like porcelain, placed on the top of a tooth. Crowns are typically used to restore a tooth's function and appearance following a restorative procedure such as a root canal. When decay in a tooth has become so advanced that large portions of the tooth must be removed, crowns are often used to restore the tooth. Read More...
Teeth Whitening
Whitening procedures have effectively restored the smile of people with stained, dull, or discolored teeth.The darker tissue of your teeth, the dentin, can become exposed as the outer layer of enamel is worn away by the effects of aging or things like caffeine and tobacco. Read More...
Root Canal Therapy
Root canals are tiny passageways that branch off from beneath the top of the tooth, coursing their way vertically downward, until they reach the tip of the root. Read More...
Toothaches
Simple toothaches can often be relieved by rinsing the mouth to clear it of debris and other matter. Sometimes, a toothache can be caused or aggravated by a piece of debris lodged between the tooth and another tooth. Avoid placing an aspirin between your tooth and gum to relieve pain, because the dissolving aspirin can actually harm your gum tissue. Read More...
Dental Emergencies
Our goal is to help you to minimize the risk of emergency treatment. This is why we commit a generous amont of time designing a Lifetime Treatment Plan that will help you to offset the possibility of unforseen pain or tooth breakage. Read More...
VELSCOPE: The most advanced way to detect cancers and abnormal tissue. We use this cancer screening instrument which allows us to see unusual patterns in unhealthy tissue by exciting the natual fluoresence in our bodies. Studies have shown that it finds problems earlier, before the tissues have a chance to become cancerous.
CEREC: Lets us make beautiful crowns for you in one visit. Our in-office computer system helps us design and customize the most accurate, best fitting, and esthetic way to get a crown.
T-SCAN: Computer aided diagnosis and treatment of TMJ (temporomandibular joint) problems and facial pain. This helps us analyze the exact timing and amount of force of your bite. Removing errors in your bite often greatly improves patient comfort and function.
.