New Britain Dentist - New Britain Dental Office
This page provides you with practical information about our practice. It includes a description of our office location, including a map and directions, hours, appointment scheduling, insurance acceptance and billing policies.
Gladstein Dental Center
70 Vine Street
New Britain, CT 06052
(860) 223-1162

*Receptionist is available at 8:30 AM
Monday:
9:00 AM - 6:00 PM
Tuesday:
9:00 AM - 6:00 PM
Thursday:
9:00 AM - 6:00 PM
Friday:
9:00 AM - 2:30 PM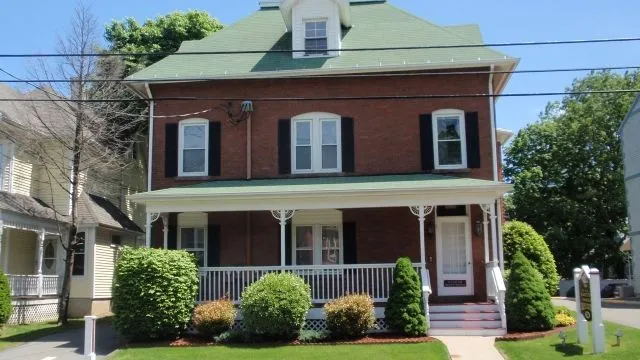 Appointments
We are looking forward to your visit. You may make an appointment by calling our office at 860-223-1162, or send us an email, requesting an appointment via our web site.
Insurance and Billing
We accept most traditional insurance plans. In addition we accept:
Anthem Blue Cross
Delta Dental
Decare Dental Networks
Cigna
All regular insurance plans
Payment Options
We accept checks, cash or credit cards (Mastercard, VIsa, Discover). We also offer a flexible payment plans through CareCredit; please see our Financial Coordinator for details.
Financing Options
CareCredit is here to help you pay for treatments and procedures your insurance doesn't cover. We offer No Interest* financing or low minimum monthly payment options so you can get what you want, when you want it. You can even use CareCredit for your family and favorite pet.

With three simple steps, including an instant approval process, it's easy to apply for CareCredit. After you're approved, you're free to use CareCredit for the services you choose including dentistry, LASIK, veterinary, cosmetic, hearing aids and more.
CareCredit is endorsed by some of the most credible dental, medical organizations. CareCredit is a GE Money Company, so you know you can count on it. They have been in business for over 20 years, helping over five million cardholders get the healthcare treatments they want and need.
Now you don't have to worry about saving up for the procedures you want and need. With CareCredit, the decision's in your hands to get what you want, when you want it. For more information or to apply online, visit carecredit.com
Facilities, Equipment, & Procedures
We provide a wide range of procedures in almost every specialty area of dentistry, in a state of the art office.
For your extra comfort:
We will actually discuss the things that are important to you; including dental problems, cosmetics, and financial concerns.
We will work out a plan, with you, to meet your needs.
We will explain things in as much of little detail as you like.
Televisions in all treatment rooms
Nitrous oxide (laughing gas) - to help relax if you are nervous.
To help better diagnose problems
Tekscan-Computer analysis of how hard you bite on every spot in your mouth
Digital X-rays - allows us to magnify the teeth, and bone.
Extremely thorough examinations
Inraoral Photography - which magnifies your teeth about 50 times their normal size.
Lasers to detect cavities
Transillumination - a special light to help see directly through teeth
Vizilite Cancer Detection
Tests to help diagnose jaw, muscle & TMJ problems
Our experience, and extra training make us experts in treating a wide range of dental probmes, from the most simple to extremely complicated problems, all in one office. These are just some of the procedures we provide:
Cosmetic procedures
Whitening teeth with Zoom, and dental trays.
Veneers
Crowns
Tooth colored fillings
Replace missing teeth
Implants
Bridges
Partial Dentures
Full Dentures
Treatment of Gum problems
Root plane - non-surgical deep cleaning
Antibiotic treatment
- direct placement of antibiotics in gum defects,
- antibiotic pills
- antibiotic mouthwashes
Surgical treatments
Treatment for badly broken down teeth
Root canal therapy- If necessary, we can remove the infected nerves & blood vessels inside the teeth.
Build Ups
Crowns - Custom made to match the color of your teeth.
Inlays & Onlays
Surgical treatments
Extractions
Surgical Extractions
Removal of wisdom teeth
Implant placement
TMJ Treatment
Diagnosis of problems between your jaw, muscles and TMJ (temperomandibular joint)
Tekscan - computer scan that analyzes your bite
Centric Relation diagnostic models
Splint Therapy
Medications as needed to relax muscles
Reshaping, or adding to your teeth if necessary to align your TMJ & your bite
Coordination with expert physical therapists & surgeons, as needed
Emergency Treatment
For patients with pain, swelling and trauma
Extractions & Surgical extractions
Root Canal Therapy
Replacing teeth knocked out due to an accident
Preventive care
Sealants,
cleanings
fluoride treatment
exams
treating tiny cavities before they get big.
Full mouth reconstructionFor patients with very severe problems, we have extensive training and experience with the most complex problems. These often require a combination of many different areas to restore a proper bite, give you a good looking smile, and create a long lasting comfortable reconstruction. Every patient's care is thoroughly analyzed, planned, and discussed with you to find the best option for you.
Our fully trained staff uses the most modern and highest quality techniques and and supplies.